Patrol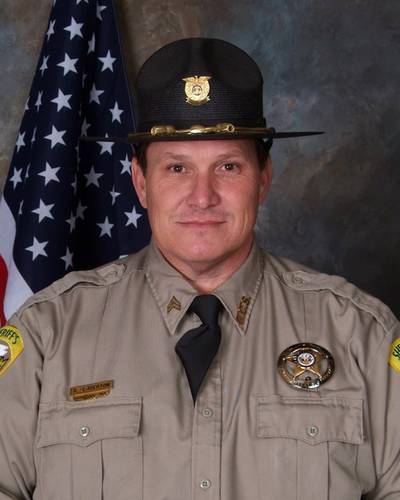 Captain Richard Pemberton
The Boone County Sheriff's Patrol Division consists of one Lieutenant, three Sergeants, one Warrants Officer and nine full time Road Deputies. The division is split into three 8-hour shifts providing 24 hour patrol. The responsibilities of the Patrol division include traffic law enforcement on all county roads, answering calls for service, transporting prisoners and serving civil papers for courts and attorneys.
Captain Richard Pemberton has been with the Sheriff's Office since 2005. Captain Pemberton is a veteran law enforcement officer and is in charge of scheduling and administration of the Patrol division.
Patrol Sergeants are shift supervisors and assist the department with administrative duties.
All Boone County Deputies have graduated from the Arkansas Law Enforcement Academy and are continually attending training seminars and schools to maintain a high level of service to the residents of Boone County.
DISPATCH
Dispatch is the life blood for Patrol. They watch out for Deputies safety, keep them connected and are responsible for sending them to the correct address for a call. Dispatchers manage warrants from Circuit and District Court and also act as the switchboard operator for the Sheriff's Department. All of our Dispatchers are ACIC certified and very proficient computer operators. We are fortunate to have some of the best Dispatchers in the State of Arkansas.
WATER PATROL DIVISION
The Boone County Sheriff's Office Water Patrol Division is charged with the duties of enforcing boating and safety regulations on the waterways located within Boone County, which includes portions of Bull Shoals and Table Rock Lakes. This Division consists of trained Deputies and Reserve Deputies.
The Water Patrol Division is responsible for answering calls for criminal activity, boating and safety violations, as well as calls to assist distressed boaters on those waterways that fall in our jurisdiction. They routinely patrol Bull Shoals Lake and Table Rock Lake and may legally stop and board your vessel to check for compliance with state and federal laws. You must comply with any directive given to you by these officers as they do have law enforcement authority in this area.
The Water Patrol Division uses a specially equipped bass boat that is clearly marked with the Sheriff's Department logo for easy identification. The Division is also highly trained for use of this water craft with refresher courses on a routine basis.
If you would like to see an increase in patrol in your area or need a property watch please notify us by e-mail at boonecosheriff@boonesheriff.com.
Sgt. Nathan Jenkins

Sgt. Scott Hornaday

Sgt. Cameron Pace

Cpl. Dusty Morgan

Cpl. Brandon Starnes

Cpl. Levi Lowery

Cpl. Ryan Kauffman

Cpl. Matt Hemphill

Deputy First Class Nathan Jones

Deputy First ClassTrevor Atwell

Deputy First Class Tyler Nichols

Deputy William Aldridge

Deputy Brett Starnes

Deputy Dan Bensal

Deputy David Everhart

Ron Thomas Court Bailiff

Heath Hudson Court Bailiff