Jail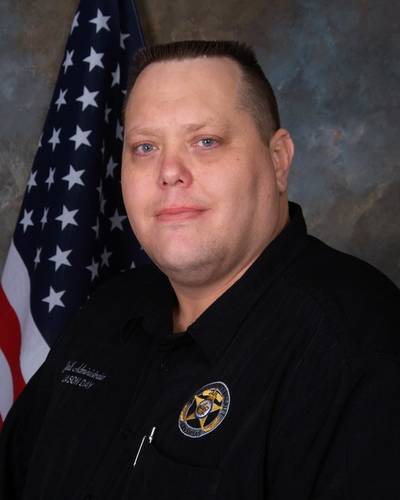 Jason Day
Jail Administrator
The Boone County Jail and Detention Staff is comprised of a Jail Administrator, one Assistant Jail Administrator, 4 Division Sergeants, 4 Corporals, 10 full time Detention officers and two part-time employees.
Jason Day, the Jail Administrator, duties consist of overseeing all functions of the Jail such as officers schedules, ordering supplies and food, arranging transport of prisoners and the safety of all inmates housed with the facility. He also oversees the training of all Detention staff which includes self defense, OC pepper spray, Tazer Gun certification and the B.A.C. Datamaster (Alcohol breath analyzer). All Detention officers are required to attend a 56 hour class on Jail Standards in order to be certified to work in the facility.
The Assistant Jail Administrator coordinates all inmate transports to and from prison, collects and manages the commissary account for inmates. He compiles all information, such as Pay for Stay amounts, for District and Circuit Courts and attends court when current inmates make appearances. This position is responsible for and orders all miscellaneous and office supplies for the Jail. In absence of the Jail Administrator, this position is in charge of all jail operations and staff.
2009 brought many changes to the Boone County Jail and Detention Center with the building of a new jail and Sheriff's Department. We moved from a 36 bed facility in downtown Harrison to a new 103 bed facility on the south edge of Bellefonte. Designed to assure the maximum safety for staff and inmates, this new jail offers state of the art technology in managing every aspect of inmate confinement. We would invite all County residents to come tour the new jail and Sheriff's office.
COMMUNICATION WITH and RULES REGARDING INMATES
VISITATION: Visitation is held on Tuesday, Wednesday and Saturday, 9:00 a.m. to 4:45 p.m. Visitation is restricted to immediate family only. (Mothers, Fathers, brothers, sisters, wife, children and grandparents). A picture ID is required. Non-family members or contact visits may only be obtained with prior approval from Sheriff Martin or Jail Administrator Jason Day.
PHONE CALLS: Each inmate cell has a phone which allows the inmates to call out. Inmates may purchase phone calling cards from commissary or if they do not purchase phone call cards, all calls made are COLLECT and are billed to the person receiving the call. General information for the Jail is 870-429-1406.
MAIL: Inmates may only receive and send written communication in regular Postal Service mail. Inmates receive mail once a day. All incoming and outgoing mail is checked for contraband before being delivered to the inmate. Mail needs to be addressed to the inmate c/o Boone County Jail, 5800 Law Dr., Harrison, AR 72601
COMMISSARY: Inmates may receive commissary on a weekly basis. Money may be deposited to their commissary account by bringing Cash, Debit Card or Credit Card and deposit in the Kiosk in our Lobby. This may be done 24 hours a day.
Money may be put on an inmates account or commissary items ordered for an inmate at https://www.commissarydeposit.com/.
Money Orders only, made out to the Boone County Sheriff's Department with the inmates name clearly on the money order can be mailed. We receipt those deposits at any time.

Jason Silva

Assistant Jail Administrator


Sgt. Trella Bensal


Sgt. Rebecca Spillman

Sgt. Shawn Harp

Sgt. Bob Kircher







Cpl. Watha Honeymann

Cpl. Tessa Foster


Cpl. Doug Horn




Gavin Bryant

Allie Parkinson


Justin Coonts

Mary Bryant

Lance Cottrell

Emily Admire





Wyatt Minyard


Billy Mixon

Jeremy Phillips


Kathryn Matlock


Chad Cole

Patricia Harper


Tonya Treat





Ashley Horton

Jail Clerk




Roger Johnson
Transport Officer / IT Tech

Inmate Pod




Booking Area
Additional Information
Arkansas Department of Correction
Email Assistant Jail Administrator